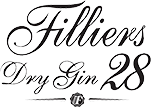 Filliers นั้นเรียกได้ว่าเป็นโรงกลั่นที่เก่าแก่ที่สุดโรงหนึ่งที่เริ่มก่อตั้งในปี คศ 1800 ในเบลเยี่ยมเลยทีเดียว โดย Filliers Dry Gin 28 คือจินอันเป็นเอกลักษณ์ของ Filliers ซึ่งใช้เวลาหลายสิบปีในการพัฒนา เพื่อให้ได้รสชาติที่ไม่มีใครเหมือน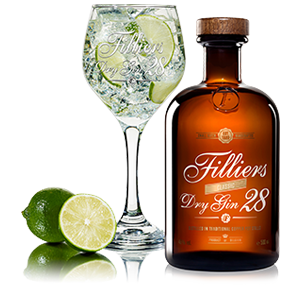 FILLIERS DRY GIN 28
CLASSIC
46% ABV – vol. 500ml
Patiently crafted by hand for exceptional character and flavour.
Filliers Dry Gin is masterfully crafted in traditional copper pot stills. The Filliers distillery, established in 1880, have adapted themselves over the years to create a gin that showcases the expertise handed down through the generations, but with a contemporary edge. This award winning gin is juniper forward on the palate, with underlying citrus elements and a hint of cardamom & coriander.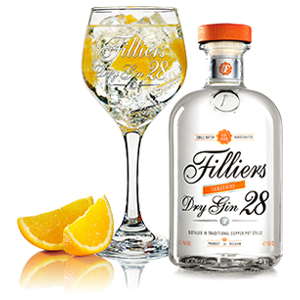 FILLIERS DRY GIN 28
TANGERINE
43.7% ABV – vol. 500ml
A classic dry gin with an additional hint of the Mediterranean.
Filliers Tangerine edition requires a little extra patience and care, adding carefully selected mandarin oranges from Spain. These oranges are chosen for their beauty, flavour and freshness that can be attributed to the wonderful sunshine therapy they acquire between the months of November and January.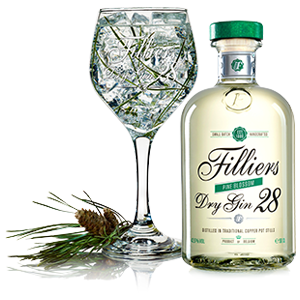 FILLIERS DRY GIN 28
PINE BLOSSOM
42.6% ABV – vol. 500ml
A classic dry gin with a unique, floral, twist.
The classic Filliers Dry Gin 28 is taken a step further with this sensational Pine Blossom edition. The Pinus Sylvestris (Pine) flowers are made into a distillate and then combined with the classic dry gin. The addition of the Pine Blossom creates a beautiful harmony of juniper, citrus and a gentle floral after note, ideal for martinis or a gin & tonic.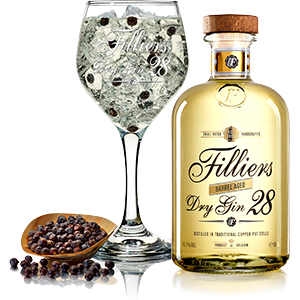 FILLIERS DRY GIN 28
BARREL AGED
43.7% ABV – vol. 500ml
A classic dry gin that has been smoothed and rounded by aging in Cognac barrels.
The classic gin is fundamentally changed, in a fantastic & unique way, by aging in Limousin oak barrels that were previously used for cognac. The gin is allowed to rest in the barrels for up to 4 months; allowing the citrus flavours to be softened, while vanilla and slight licorice notes develop.